From: Christian Henning, NASM-CPT, gfs
Re: The "Pinseeker" revolution. How you can invest just minutes per day, and Improve accuracy from 100 yards and in, while shaving STROKES at the same time.
Dear Fellow Golfer,
I can help you become DEADLY ACCURATE from 100 yards and in and create more birdie chances for your game, AND eliminate the back 9 fade from your game all at the SAME TIME. Not to mention, I will help you add muscle, become a fat burner, play with your kids longer, and become more flexible too.
Did you know that all "scratch" players have secrets they are reluctant to reveal?
Have you ever wondered why almost every SUCCESSFUL PGA Tour Player invests more time in their short game than long game? Yet, their equipment stays pretty much the same from season to season?
And maybe you are tired, lethargic, and suffer from a tight back on the last nine - also known as the "Back 9 Fade"? Costing you valuable strokes..
I Totally Understand
It's not your fault, you've probably heard a million opinions and got some free advice (usually worth about what you pay for it) and you're more confused than ever...
How often do you find yourself chasing your own tail?
That's OK. This is what I do, so help is on the way...
...and that's why I am here to put a stop to all of the hype and propaganda the major manufacturers, magazines, and TV shows continuously preach.
The golf industry wants you to chase your tail.
New wedges, new drivers, gadgets, and the latest fads are the lifeblood of the golf marketing machine.
But seriously, has a new wedge or golf ball EVER made any significant difference in your scoring average?
Think about that for a moment, has your score truly decreased over the past two years from a new wedge or a new golf ball?
I doubt it.
The club champion at my country club has been playing with the same irons and woods since 1998. It's really not the equipment that makes the champion.
It's hard for these big companies to stay in business if you aren't buying a new set of wedges or driver every year. Year after year we hear claims of more spin and accuracy, but is it translating to your game?
Who can blame them for all of the hype? The TV, Magazines, and Manufacturers are all conspiring together. They want you to think the secret to a better golf game is just a credit card purchase and UPS or FedEx delivery away.
The Best System For Holing Out More Putts,
Increasing Confidence & QUICKLY Lowering Your Score
- In The World
You could go out and read EVERY book ever written on the Short Game, Drills, Golf Fitness, Endurance, Stretching, spend HOURS interviewing industry insiders, and actually go out in the field and DO this stuff like I have.
or...
Grab this simple System that condenses everything I've learned about the wedge game into a step-by-step, paint by numbers approach to reducing lowering your score and building endurance at the same time. (more endurance means more rounds of golf)
No fluff and NO B.S. Just the raw information and systems you need to take dead aim, lower your score, feel better, and increase your endurance.
Here's Just a LITTLE of What You'll
Have Access to...
You'll have IMMEDIATE ACCESS to the following Golf Performance program...  
The Red Zone Challenge Members Area
Part of our Single Digit System used by amateurs and professionals.
You can INCREASE accuracy AND consistency with the Red Zone Challenge. Backed by our 60-day Money Back Guarantee.
What good is a single golf lesson? Not much good at all... in fact, it might end up hurting your game more than helping.
Chris and Rich solved the problem with lessons by developing a clear roadmap with daily and weekly goals that will propel you faster towards your goal of more distance and consistency.
Daily checklists are sent every day so you know exactly what to do with no guesswork.
The Daily Checklist is your ticket to rapid results! Our students rave about the simplistic and easy to follow approach Chris and Rich have designed.
Video Instructional Drills & Lessons

Each week you will be given access to a new video lesson as well as a video demonstration of all drills assigned by myself and Rich. The lessons progress you through the entire No More 3 Putts! curriculum step-by-step. You only progress to the next lesson when you have had ample time to master the fundamental skill we have targeted to maximize putting skill.
Re-watch the video's for as long as you would like, your membership to the No More 3 Putts! Challenge never expires!

Golf Specific Workout Program with Instructional Exercise Video's
Exercise is part of the 'Putting Cocktail' and one of the Force Multipliers we use for maximal results. When we attack putting from a well-rounded approach - only then can we gain MAXIMUM accuracy and skill. And I'm not only a Single Digit golfer, but also an NASM Certified Fitness Instructor with a specialization in Golf Fitness. I designed these workouts to be challenging yet fun. Perfected over three years with several test groups and REAL golfers like you - my workouts build a strong, flexible and energetic golf body.
Facebook Coaching and Support Group

Previous Challenge participants singled out the PRIVATE Facebook Coaching Group as the NUMBER ONE key to their success. Member's are able to get advice from Rich or I on the drills, exercises, workouts, and more... ask us ANYTHING!
Best yet, research has proven that an online support group INCREASES your chances of success as well as INCREASING the results you achieve. WIN WIN.
The Challengers also enjoyed the group support and competition... with random prizes given out to students who make rapid improvements and gains.
Printable Accuracy Assessment Sheet

Only by knowing where we start can we know how far we have progressed.
The PAAS is more than an accuracy check, it's a powerful weapon you can use to your advantage on the golf course that builds up resistance to pressure.
Only when you know how far you hit every club - on a consistent basis - can you post low numbers like the Pro's.
Turn every club in your bag into a precise weapon you can use to shave valuable strokes off your game.
Printable Workout Tracking Sheets

Strength training is pretty simple - lift more weight each time you workout to get stronger. Yet, most people walk into the gym without a plan and without a pen... big mistake... you should always be pushing yourself to get better - every workout.
The Printable Workout Tracking Sheets will keep you organized and on track. Just write in your progress each workout and try to beat yourself the next workout.
Don't forget, you also get step-by-step instructions for performing each exercise. Chris performs every exercise so you know exactly what to do. Like they say... a VIDEO is worth a thousand words. 🙂
Daily Reminders & Motivation

Look... we know you are going to have ups and downs... that's why Chris and Rich created daily reminder emails that will be delivered to your inbox.
The emails and Facebook posts will help motivate and inspire you to keep moving. No one is perfect, but it sure helps to have daily motivation to keep you on track.
In addition, we've done all the planning and work for you - just show up each day for a few minutes to see rapid results unlike anything you've ever tried before.
Chris created this simple checklist strategy many years ago to improve his own game in a step-by-step blueprint approach. The secret lies in the progression of the program and performing a few simple tasks each day.
Proprietary "Force Multiplier System" (FMS)™

The Red Zone Challenge utilizes proprietary "Force Multiplier" training for maximum results in the least amount of time possible. Force multiplication, in military usage, refers to an attribute or a combination of attributes which make a given force more effective than that same force would be without it.
Our Force Multiplier System is based on our 3 Core Principles for golf performance: Mind, Body, and Skill. We believe anyone who applies our Force Multiplier System and sweat equity can become a single digit handicap golfer in a short amount of time.
I Can't Take Credit For The System
I consulted EVERY pro and trainer that I knew who had success getting results from their golfers in increasing accuracy, building endurance, read everything available on the subject of the short game, golf fitness and power, performed our own test groups, and then added our own personal experiences to develop these systems…
Don't let the simplicity of the system fool you. Over 5,000 hours of research went into the culmination of this project.
It is truly, the best of the best there is, and the system is simple and FAST to learn so you can implement this information immediately.
Tested, Perfected, and Backed By Science.
My findings are that when the scientific principles I discovered for Skills Development, Swing Grooving and Pressure Resistance are mixed with exercises designed to improve your golf swing - you get the perfect Pinseeker Cocktail for Golfers.
In a nutshell, this system works, and has worked for hundreds of golfers who have had success using this VERY system.
My research has indicated that when clients define clear goals they wish to achieve, are given a blueprint, and easy access to coaching and accountability... their success is virtually guaranteed.
Think of the Red Zone Challenge as paint-by-number for golfers who want to take dead aim.
All you really need to do is show up and focus for a few minutes each day or as your schedule allows. Perform the drills, exercises, perform the stretches, and you will see results....
Why Pioneers Get Scalped
There is an old saying in business "Pioneers get scalped but settlers prosper". You would spend a long, long time educating yourself and experimenting to get to a level where you could get similar results on your own.
Can you imagine how much faster and easier it is when you follow a proven system developed by a "Pioneer" instead of making 1,000 time-eroding mistakes before lowering your score and improving your wedge game?
Imagine…
By receiving input from clients, partners, and our own insights, I feel we have put together the best possible methods of transforming your golf game as well as your health.
In fact, our test groups using the princicples included in the Red Zone Challenge with our students delivered amazing results, in a short amount of time... here's the results from a distance gaining test group which utilize the same principles included in the Red Zone Challenge...
Almost every participant gained a FULL CLUB (10 yards) on their irons, and a whopping 20 Yards on their Driver, in just 30 days.
Perhaps the best comments we received though were how the participants felt in their day to day lives. Feeling better, more energy, and less pain...
... how nice would it be to accomplish this in less than a month? I think we can both agree that would be pretty awesome. You can do it too.
How do I know? I've seen it happen hundreds of times for those who participated in our test Challenge as well as thousands of happy clients...
Don't Take My Word For It,
Here is the Real Proof:
Why It's Just

$97
$47
I'm only charging $97 $47 for The Red Zone Challenge for 3 reasons:
1. $97 $47 puts a proven and effective golf performance program within reach of the vast majority of people. My goal is to help 1 million golfers live healthier lives and this allows me to help more golfers. 
2. Anyone who's not serious enough about their golf game or health in 2016 to invest a measly $97 $47 into this program isn't going to take the time to use the methods laid out anyway.
3. Anyone who is serious enough to put down the price of a dozen balls and buy The Red Zone Challenge has the opportunity to substantially improve their health and improve their golf game beyond their wildest dreams.
So if you're serious about shedding fat, crushing drives, and feeling more confident in 2016, and if you would like to start TODAY click the "Buy Now" button below. If you need to justify the expense, skip going to Starbucks a few times this week and it's paid for.
My "Double" You'll Love
It Guarantee

Guarantee #1 – If for any reason you think the Red Zone Challenge isn't the best $47 you've ever spent to improve your scoring chances, just send me an email and I'll gladly refund 100% of your investment.
Guarantee #2 – If you actually DO what I recommend and your results aren't great, I'll still refund you up to 60 days. All I ask is you give me an honest effort.
How is that for fair?
Only 30 SLOTS are OPEN

Time is Very Much "Of the Essence"... I can't stress the time-sensitiveness of this offer enough.
Not only will the 30 go quickly (at which point the HUGE discount will expire) and trust me, you don't want to miss it...
Click on the "Add To Cart" button below to join now to get instant access to The Red Zone Challenge AND our FREE Bonus Consistency Module Video Lessons Risk-Free for just $97 $47...
MEMBER PRICING:
---
THIS week only...
---
 After This Week
CURRENT PRICING:
---
$47*
*Masters Week Only + Consistency Module Video Lessons
---
$97/one-time
WARNING: You Will Make Mistakes
A man who represents himself in court has a FOOL for a lawyer and we all know that people who don't
read the instructions SCREW things up.
Get help before you try to improve your golf game or you could screw up big time and when a full plan is only 97 47 Bucks, you'd be pretty dumb not to grab it.
Worse yet is chasing your tail... thinking you are making progress when you could be doing more harm than good. Chasing your tail is nothing more than a lack of focus - which the Red Zone Challenge solves. I think we can both agree that a clear plan that features accountability and expert coaching support is the way to go.
$97 $47 is the only thing standing between you and success. You could hire a golf coach AND a personal trainer and pay them hundreds of dollars each month... consider that your membership is just a fraction of that.
Fairways and Greens,
PS - When you take my $97 $47 offer to The Red Zone Challenge today I'll throw in a copy of one of my most popular game improvement video series ever released, Consistency Module Video Lessons, for free. Even if you decide to cancel the Red Zone Challenge, the videos are yours to keep forever.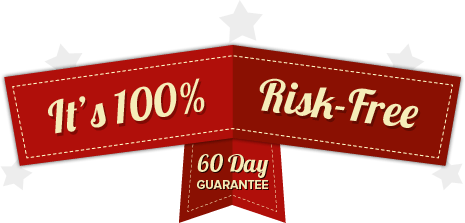 © Golf Aggressive Publishing LLP. All Rights Reserved.