ATTENTION GOLFERS: Black Friday / Cyber Monday Sale to Benefit Toys for Tots...
How to Quickly and Easily


Increase Your Driver Distance 

- Without Gimmicks


or Gadgets in 30 days
Leading Golf Fitness Expert Reveals His

Proven Secret Formula To

Longer Drives, Longer Irons, and

Stamina - Even With a Busy Schedule
From: Christian Henning, NASM-CPT, gfs
Re: The "Golf Challenge" revolution. How you can invest just 32 minutes per day, and become a SINGLE-DIGIT Handicap Golfer.
Dear Fellow Golfer,
I can help you add ten yards to your irons, 20+ yards to your driver, improve your consistency, and lower your handicap substantially. Not to mention, I can help you add muscle, burn fat, and become more flexible too.
Did you know that all "A-Game" players have secrets they are reluctant to reveal?
Have you ever wondered why Tiger Woods spends thousands of dollars each month on golf coaches, trainers, and other experts? Yet, his equipment is pretty much the same from year to year?
Are you stuck because you need more structure than the Golf Channel, magazines, new clubs or gadgets can deliver?
It's not your fault, you've probably heard a million opinions and got some free advice (usually worth about what you pay for it) and you're more confused than ever...
How often do you find yourself chasing your own tail?
That's OK. This is what I do, so help is on the way...
...and that's why I am here to put a stop to all of the hype and propaganda the major manufacturers, magazines, and TV shows continuously preach.
The golf industry wants you to chase your tail.
New drivers, new irons, gadgets, and the latest fads are the lifeblood of the golf marketing machine.
But seriously, has a new driver or golf ball EVER made any significant difference in how far you hit the ball?
Think about that for a moment, has your distance truly increased over the past two years from a new driver or a new golf ball?
I doubt it.
The club champion at my country club has been playing with the same irons and woods since 1998. It's really not the equipment that makes the champion.
It's hard for these big companies to stay in business if you aren't buying a new set of clubs or driver every year. Year after year we hear claims of more yards, but is it translating to your game?
Who can blame them for all of the hype? The TV, Magazines, and Manufacturers are all conspiring together. They want you to think the secret to a better golf game is just a credit card purchase and UPS or FedEx delivery away.
The Best System For
More Driving Distance
In The World
You could go out and read EVERY book ever written on Golf Fitness, Power, Stretching, spend HOURS interviewing industry insiders, and actually go out in the field and DO this stuff like I have.
or...
Join my simple VIP Membership site that condenses everything I've learned about golf fitness into a step-by-step, paint by numbers approach to lowering your score.
No fluff and NO B.S. Just the raw information and systems you need to hit the ball longer, lower your score, feel better, and enjoy golf more
Here's Just a LITTLE of What You'll
Have Access to...
You'll have IMMEDIATE ACCESS to the following Golf Fitness Training program...  
30 Yards or More in 30 Days or Less
Our flagship distance program used by amateurs and professionals.
You can ADD yards and improve consistency with the 30 Yard Or More In 30 Days Or Less System. Backed by our 60-day Money Back Guarantee.
PLUS You'll Get " Done For You Meal Plans"  with Diet Guide and also my 10 Minute Pre-Round Warm Up Manual.
Shed Pounds to Shave Strokes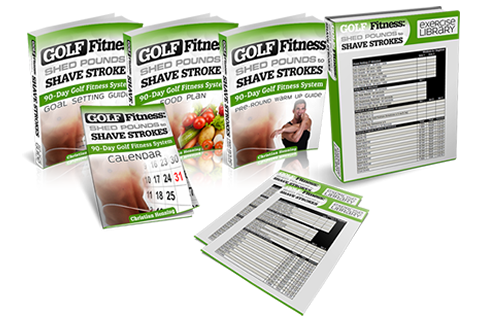 Shed Pounds to Shave Strokes utilizes 'Turbulence Training' and 'Translation Training' to keep your body in an ever adapting state. Through forced adaptation, we force the body to burn fat and improve golf performance. The program uses both weight training and short-burst cardio sessions.
Turbulence burns the fat off. Translation Training builds a powerful golf body.
A good analogy for Turbulence is that of a car starting and stopping. The more starting and stopping the car does, the more fuel is burned. When the car is on the highway at a constant speed, less fuel is burned

Core to Score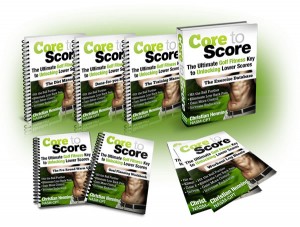 The ultimate golf fitness key to unlocking more power – Core to Score features a unique core strengthening and power workout system designed to increase clubhead speed.
Distance isn't just about doing things other people don't do. It's more about knowing things other people just don't know. And the people that know them… the people that know what it takes to develop distance… you might refer to these people as, "The Insiders."
The Insiders know that swing speed is the SECRET key.
Back and Abs for Golfers


This Powerful Back Pain Relief Method is Consistently
Used by the Best Physical Therapists in the World,
but is it Right For You?
So before you even consider learning more,
please be assured this program
will ONLY benefit those that are:

This Back and Abs workout was designed to make golf PAIN FREE and IMPROVE your stamina and driving distance on the course, and even improves your core for maximum distance gains. Simply plug this workout in to your existing workout once per week.
Endurance Builders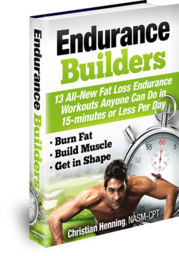 Use these Builders anytime, anywhere with ANY workout. This is the perfect solution for those wanting the best results in the least amount of time. You'll discover the "Splits" and the "Burn" builders and more. Take a look at this study from Canadian researchers at Queen's University.

The researchers tested an Endurance Builder style workout against long cardio sessions (Reference: Appl Physiol Nutr Metab. 2012 Sep 20.) 22 college-aged women did 4 workouts per week for 4 weeks in one of three groups.
Group A: Did 30 minutes of treadmill running at 85% max heart rate
Group B: Did 8 rounds of 20 seconds of a single exercise (burpees, jumping jacks, mountain climbers, or squat thrusts) with 10 seconds of rest between rounds.
Group C: Did nothing (they were the non-training control group).
Both training groups increased their aerobic fitness levels by the SAME amount (about 7-8%). That's right, the short bodyweight workouts (of 4 minutes) worked just as well as 30 minutes of cardio… BUT …only Group B, using the Endurance Builder style training, also increased muscular endurance in common exercises like chest presses, leg extensions, sit-ups, and push-ups.
The Canadian Scientists concluded that "extremely low volume bodyweight interval-style training" will boost cardiovascular fitness just as well as cardio while giving you BETTER improvements in muscle endurance. All in just 4 minutes.
Results: Both training groups increased their aerobic fitness levels by the SAME amount (about 7-8%). That's right, the short bodyweight workouts (of 4 minutes) worked just as well as 30 minutes of cardio. Shocking.
I CAN'T TAKE CREDIT FOR THE SYSTEM
I consulted EVERY trainer that I knew who had success getting results from their golfers at increasing driving distance, read everything available on the subject of golf fitness and power, performed my own test groups, and then added my own personal experiences to develop these systems…
Don't let the simplicity of the system fool you. Over 5,000 hours of research went into the culmination of this project.
It is truly, the best of the best there is, and the system is simple and FAST to learn so you can implement this information immediately.
Tested, Perfected, and Backed By Science.
My findings are that a 30-day laser focus on both fitness and skill improvement is the best approach to increasing your driver distance.
In a nutshell, my system works, and has worked for hundreds of golfers I have tested this program with. I even partnered with Golf Fitness pioneer GolfGym to conduct testing using all of the principles this programs encompass.
My research has indicated that when clients define clear goals they wish to achieve, are given a blueprint, and easy access to coaching and accountability... their success is virtually guaranteed.
Think of the 30 Yards or More in 30 Days or Less System as paint-by-number for golfers.
All you really need to do is show up and focus for a few minutes each day or as your schedule allows.
Perform the exercises, perform the stretches, and you will see results...
Why Pioneers Get Scalped
There is an old saying in business "Pioneers get scalped but settlers prosper". You would spend a long, long time educating yourself and experimenting to get to a level where you could get similar results on your own.
Can you imagine how much faster and easier it is when you follow a proven system developed by a "Pioneer" instead of making 1,000 time-eroding mistakes before adding a single yard of distance?
Imagine…
Hitting the ball longer and losing stubborn belly fat at the same time...
Using a 9-iron for your approach shots instead of a 5, 6, or 7 iron...
Waiting on your buddies to hit their approach shots as you blast by them..
Finishing strong on the back 9 (avoiding the Back 9 Fade)...
Being proud of the golfer you see in the mirror every morning (with your shirt off)...
By receiving input from clients, partners, and our own insights, I feel we have put together the best possible methods of transforming your driving game as well as your health. In fact, our test version using the princicples included in 30 Yards or More in 30 Days or Less with our friends over at GolfGym resulted in great success for our test golfers.
Almost every participant gained a FULL CLUB (10 yards) on their irons, and a whopping 20 Yards on their Driver, in just 30 days.
Perhaps the best comments we received though were how the participants felt in their day to day lives. Feeling better, more energy, and less pain... ... how nice would it be to accomplish this in less than a month? I think we can both agree that would be pretty awesome. You can do it too. How do I know? I've seen it happen hundreds of times for those who participated in our test Challenge as well as thousands of happy clients...
Don't Take My Word For It, Here is the Real Proof:
Why It's Just $197


$57 (BLACK FRIDAY ONLY)
I'm only charging $197 for this VIP Membership (including EVERY GOLF FITNESS WORKOUT I'VE EVER CREATED) for 3 reasons.
$197 puts a proven and effective golf fitness program within reach of the
vast majority of people. My goal is to help 1 million golfers live healthier
lives and this allows me to help more golfers.
Anyone who's not serious enough about their golf game or health in 2015 to
invest a measly $197 into this program isn't going to take the time to
use the methods laid out anyway.
Anyone who is serious enough to put down the price of a dozen balls and buy this VIP Membership has the opportunity to substantially lower their
handicap and improve their golf game beyond their wildest dreams.
So if you're serious about lowering your score, crushing drives, and feeling more confident in 2015, and if you would like to start TODAY click the "Buy Now" button below. If you need to justify the expense, skip going to Starbucks a few times this week and it's paid for.
My "Double" You'll Love
It Guarantee
Only the First 100 are Available at this
One-Time Opportunity
 How is that for fair?
Time is Very Much "Of the Essence"...  
I can't stress the time-sensitiveness of this offer enough.
Not only will the 100 go quickly (at which point the HUGE discount will expire) and trust me, you don't want to miss it...
Click on the "Add To Cart" button below to join now to get instant access to The VIP Membership AND a FREE Copy of Golf: How to Consistently Break 90 Risk-Free for just $197 $57...
YES! Give Me Instant Access
 Charter Member Pricing:
---
First
100

members

(ONLY 20 MEMBERSHIPS REMAIN)
---
101 and over
Current Pricing:
---
$57*

*Limited Time Only + Golf: How to Consistently Break 90 FREE

---
$197/one-time
WARNING: You Will Make Mistakes
A man who represents himself in court has a FOOL for a lawyer and we all know that people who don't
read the instructions SCREW things up. 
Get help before you try to improve your golf game or you could screw up big time and when a full plan is only 197 Bucks, you'd be pretty dumb not to grab it.
Worse yet is chasing your tail... thinking you are making progress when you could be doing more harm than good. Chasing your tail is nothing more than a lack of focus - which the VIP Membership solves. I think we can both agree that a clear plan that features accountability and expert coaching support is the way to go.
$197 $57is the only thing standing between you and success. You could hire a golf coach and pay them hundreds of dollars each month... consider that your membership is just a fraction of that.
Fairways and Greens,
PS - When you take my $197 $57 trial offer to VIP Membership today I'll throw in a copy of one of my most popular game improvement books ever released, Golf: How to Consistently Break 90, for free. Even if you decide to cancel your membership to the VIP Membership, the book is yours to keep forever.
© Copyright GetGolfFit.com. All Rights Reserved.